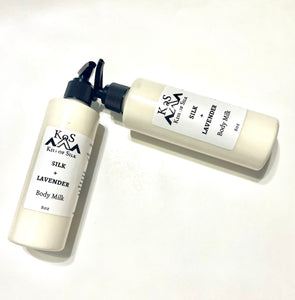 Kiss of Silk's Body Milks are made with only the most luxurious & soothing Natural Ingredients. Long lasting moisture to leave even the driest areas smooth & hydrated all day/night with added anti-inflammatory properties. Kiss of Silk has formulated our Body Milks with skin health boosting, collagen enhancing, skin brightening, moisture retaining, & many more healing ingredients useful to all skin types. 

Best For: All Skin Types & can be used as a hair moisturizer 
Smells Like: Smooth Lavender Buds 
Specialties: 
Hydrates skin
Helps promote relaxation 

Skin Brightener +  Conditioner 

Helps reduce skin inflammation

Skin repairing properties 

Soothes & calms skin

Anti-aging properties 

Forms barrier that protects + boost moisture 

Itchy skin reliever 

Antioxidant booster 

Helps protects from environmental factors 

Encourages growth of healthy skin cells
Use:
-Massage grape sized dollop into hands
- Apply on clean skin as needed
Care:
-Keep in cool place away from direct sunlight
-Do not remove lid of product
-Avoid getting outside factors into product (Water, dirt, etc)
*Subject to melt in heat*
*Always Test Patch*
*For External Use Only*
Shelf Life:  
3-4 months from receiving 
Ingredients: 
Shea Butter, Cucumber Seed Oil, Jojoba Oil, Safflower Oil, Beeswax, Distilled Water, Oatmeal Extract, Chamomile Extract, Jasmine Extract, Cucumber Extract, Silk Amino Acids, Glycerin, Lavender Essential Oil, Guar Gum, Cetearyl Alcohol, Sodium Cetearyl Sulfate, Caprylyl Glycol, Phenoxyenthanol, Hexylene Glycol
Disclaimer: These statements have not been evaluated by the Food and Drug Administration. This product is not intended to diagnose, treat, cure, or prevent any disease. Results may vary. Please test products on small patch of skin before using fully.
Smells soooo good!
This product smells soo beautiful. Someone asked me what perfume I was wearing & I wasn't wearing any! I love the texture & moisture it provides as well!