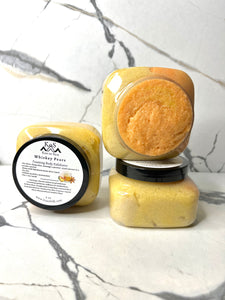 Ready to cleanse and exfoliate at the same time?! Dive into this scented & foaming body exfoliator! These added aromas are clean, meaning they are:
Paraben & Phthalate Free
Vegan + Cruelty Free
Carcinogen + Reproductive Toxin Free
Free of Potentially Hazardous Chemicals
Created with Plant based & Organic Ingredients to give your skin the very best nutrients. Raw & Organic Sugars gently exfoliate the skin, added botanical extracts add nutrients that heal & soothe the skin, while clean scents add an aromatherapy session!
8oz Jar 
Best For: All Skin Types 
Smells Like: 
Whiskey Pears smells like freshly Ripened Pears dipped in  Whiskey accompanied by notes of Brandy, Smoke, Apple Cider, Sugar, Oak & a smooth blend of Cinnamon, Clove, & Star Anise
Combats premature aging
Cleanses skin without over-drying
Helps lighten and reduce dark spots and acne scars
Antibacterial properties
Nourishing properties 
Exfoliating
Brightens skin and boost collagen
Aids in acne treatment 
Contains antioxidants + enzymes that boost skin health 
Use:
-On clean, damp skin, massage a quarter- sized amount in a circular motion to create a rich lather
-Rinse with lukewarm water 
-Pat dry & follow up with a KoS Moisturizer 
Use 1-2x a week 
Care:
-Keep in cool place away from direct sunlight
-Keep closed when not in use
-Avoid getting outside factors into product (Water, dirt, etc)
*Always Test Patch*
*For External Use Only*
Shelf Life:  
3-4 months from receiving 
Ingredients: 
Cane Sugar, Glycerin, Sodium Cocoyl Isethionate, Cocamidopropyl Betaine, Safflower Oil, Essential Oils of Patchouli & Birch Tar, Fragrance, Distilled Water, Xanthan Gum, Mica, Sorbitan Oleate, Decylglucoside Crosspolymer, Caprylyl Glycol, Phenoxyenthanol, Hexylene Glycol
Disclaimer: These statements have not been evaluated by the Food and Drug Administration. This product is not intended to diagnose, treat, cure, or prevent any disease. Results may vary. Please test products on small patch of skin before using fully. 
Omg her scrubs are a game changer!