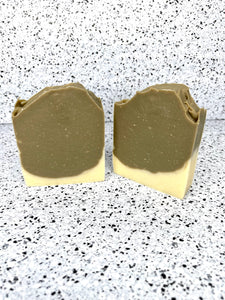 This is a cold process soap bar that has cured for 4+ Weeks. 

Our handcrafted Soap Bars are formulated to cleanse, heal, moisturize, detox & purify, exfoliate, calm, add antioxidants & vitamins to the skin without all the extra chemicals. What we love about this KoS bar is that you can use them on face or body (not internally). You don't worry about it stripping your skin of moisture, clogging pores or chemicals added to it because it is made with all natural ingredients + lots of time + love. 
Best For: All Skin Types
Smells Like: Cedarwood & Sweet-Like Floral Undertone of Lavender + Ylang Ylang. 
Exfoliation: Light
Specialties: 
Cleanse + detox skin impurities w/o overdrying 

Remove Dead Skin while creating a foundation for healthy skin cell growth
Antibacterial & Antifungal properties
Stimulates blood circulation 
Helps balance oil production 

Barrier fortifier 

Relaxes + uplifts 

Lightens dark marks

 

Light Exfoliation
Use: Work into a light lather & wash with daily
Care & Shelf Life:
-Keep in Cool place away from direct sunlight 
-To extend usage life, do not place in direct stream of water when not in use 
-No expiration but smell will fade after about 5 months from receiving 
*Always Test Patch*
*For External Use Only*
Ingredients:
Saponified Olive Oil, Shea Butter, Coconut Oil, Castor Oil, Dead Sea Mineral Mud, Water, Lavender Essential Oil, Blood Orange Essential Oil, Cedarwood Essential Oil, Ylang-Ylang Essential Oil 
Disclaimer: These statements have not been evaluated by the Food and Drug Administration. This product is not intended to diagnose, treat, cure, or prevent any disease. Results may vary. Please test products on small patch of skin before using fully.