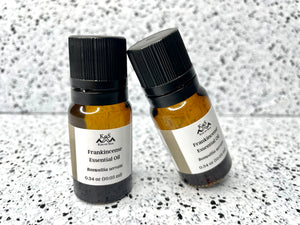 Frankincense (Boswellia Serrata) Essential Oil 
100% Pure & Undiluted Essential Oil
Botanical Name: Boswellia serrata
Plant Part: Resin
Origin: India
Processing Method: Steam Distillation
Appearance: Colorless to Pale Yellow Liquid
Aroma: Frankincense (Boswellia serrata) has a warm, spicy, & woody balsamic aroma. 

0.34oz Bottle 

Care:
-Keep in cool place away from direct sunlight
-Keep closed when not in use
-Avoid getting outside factors into product (Water, dirt, etc)
*Always Patch Test after properly diluting*
*For External Use Only*
Shelf Life: Up to 2+ years if stored properly 
Cautions: Undiluted Essential Oils are in pure form & can cause irritation to skin if not properly diluted. Dilute very well before use. Avoid contact with eyes. 
If you are pregnant, check with your doctor before use. Keep away from children & pets. 


Common Usage: Skincare, Haircare, Aromatherapy, Candles, Perfumery 
Disclaimer: These statements have not been evaluated by the Food and Drug Administration. This product is not intended to diagnose, treat, cure, or prevent any disease. Results may vary. Please test products on small patch of skin before using fully.