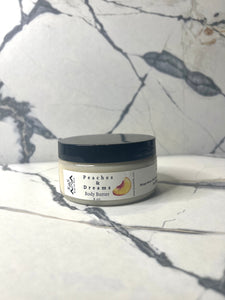 This Body Butter is full of vitamins & antioxidants that help boost collagen, reduce skin inflammation, boost blood circulation, & moisturize the largest organ you have-your skin. 
Size: 8oz Jar
Smells Like: 
 A Tropical Paradise sprinkled with the Nectar of Peach, Papaya, & Mangoes, with Vanilla Bean & Cake notes. 
Specialties:
Boosts + Locks in moisture 

Helps relieve itchy skin 

Anti-Inflammatory properties 

Antioxidant properties 

Collagen booster 

Aids in dark marks lightening 

Skin conditioner 

Antibacterial properties 

Elastin + collagen enhancer 
Use: Use as needed to cleansed skin
For best results, apply to damp skin after your shower. 
Care:
-Keep in Cool place *Subject to melt in heat*
-Keep closed when not in use
-Avoid getting outside factors into product (Water, dirt, etc)
*Always Test Patch*
*For External Use Only*
Shelf Life: 
3-4 Months from receiving
Ingredients: 
Mango Butter, Shea Butter, Safflower Oil, Rice Bran Oil, Candelila Wax, Fragrance, Caprylyl Glycol, Phenoxyenthanol, Hexylene Glycol

Disclaimer: These statements have not been evaluated by the Food and Drug Administration. This product is not intended to diagnose, treat, cure, or prevent any disease. Results may vary. Please test products on small patch of skin before using fully.
Lovely
I loved the personalized touch to my package. When I say it smells so good! The scent isn't to loud but if you hug me you're in for a pleasant surprise. The texture of the product is perfect. Not greasy and my sheets aren't in disarray like they would be if I used Shea butter. 10/10 recommend!