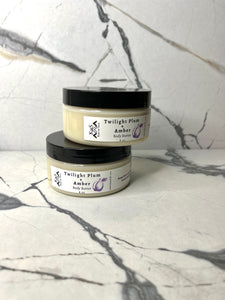 This Body Butter is full of vitamins & antioxidants that help boost collagen, reduce skin inflammation, boost blood circulation, & moisturize the largest organ you have-your skin. 
Size: 8oz Jar
Smells Like: Sweet Coconut Milk + Floral Mimosa with Warm Amber + Saffron Spice 
Specialties:
Boosts + Locks in moisture 

Helps relieve itchy skin 

Anti-Inflammatory properties 

Antioxidant properties 

Collagen booster 

Aids in dark marks lightening 

Skin conditioner 

Antibacterial properties 

Elastin + collagen enhancer 
Use: Use as needed to cleansed skin
For best results, apply to damp skin after your shower. 
Care:
-Keep in Cool place *Subject to melt in heat*
-Keep closed when not in use
-Avoid getting outside factors into product (Water, dirt, etc)
*Always Test Patch*
*For External Use Only*
Shelf Life: 
3-4 Months from receiving
Ingredients: 
Mango Butter, Shea Butter, Safflower Oil, Rice Bran Oil, Candelila Wax, Clove Essential Oil, Orange Essential Oil, Fragrance, Caprylyl Glycol, Phenoxyenthanol, Hexylene Glycol

Disclaimer: These statements have not been evaluated by the Food and Drug Administration. This product is not intended to diagnose, treat, cure, or prevent any disease. Results may vary. Please test products on small patch of skin before using fully.
A favorite 💕
This is one of my favorite scents ever. and whenever I use it, my skin feels so soft and maintains a glow. Just by the smell alone I get many compliments. I have also noticed an improvement in my skin and how it retains moisture. I absolutely love this body butter💕🥹.
Who smells good 😊
I love this scent! What's that smell…oh it's me that smells good. If I could describe fall, this would be it. Don't sleep on this. The body butter is a great moisturizer to use after the body wash. Give it a try, you know you want to!
In love with this scent!
I bought the set and had a majority of pieces be this scent. I LOVE how the scent makes me feel at peace. It really just starts my day on the right foot and brings peace of mind at the end of my day. It's hard to explain, I just absolutely love to take some deep inhales of the aroma after applying this body butter or body oil.
The body cream & scent is so smooth and light it last for hours.