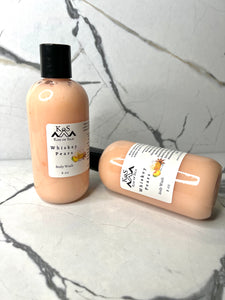 Smell Divine & Cleanse at the same time! 
Our handcrafted Body Washes are formulated to cleanse, heal, moisturize, detox & purify, calm & uplift without all the extra hazardous chemicals. You'll get an aromatherapy session when you get in your shower! It is made with plantbased ingredients + lots of time + love. 

The aromas added into this product are clean, meaning they are:
Paraben & Phthalate Free
Vegan + Cruelty Free
Carcinogen + Reproductive Toxin Free
Free of Potentially Hazardous Chemicals
 Size: 8oz Bottle
Best For: All Skin Types 
Smells Like: 
Whiskey Pears smells like freshly Ripened Pears dipped in Spiced Whiskey accompanied by notes of Brandy, Smoke, Apple Cider, Sugar, Oak & a smooth blend of Cinnamon, Clove, & Star Anise
Specialties: 
Cleanse & rejuvenate skin w/o overdrying 

Barrier fortifier 

Relaxes + uplifts 

Free radical fighter 

Anti-inflammatory properties 
Collagen booster
Use:
-Work a quarter sized amount into a light lather & wash with daily
-Follow up with a moisturizer. Pair with a body oil! 
*Note: The colors can vary & can fade overtime. This does not effect the quality.* 
Care:
-Keep cap on
-Keep cap closed when not in use
-Avoid getting outside factors into product (Water, dirt, etc)
*Always Test Patch*
*For External Use Only*
Shelf Life:  
3-4 months from receiving 
Ingredients:
Rice Bran Oil, Distilled Water, Glycerin, Coco Glucoside, Cocamidopropyl Betaine, Essential Oils of Patchouli & Birch Tar, Citric Acid, Xanthan Gum, Mica,  Fragrance, Caprylyl Glycol, Phenoxyenthanol, Hexylene Glycol
Disclaimer: These statements have not been evaluated by the Food and Drug Administration. This product is not intended to diagnose, treat, cure, or prevent any disease. Results may vary. Please test products on small patch of skin before using fully.