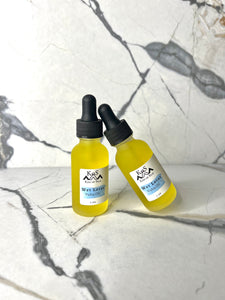 Being a woman-owned business, we're all for Vaginal Health here at Kiss of Silk! So, we've created Wet Lotus- a Plantbased Feminine Health Line with the health of your vagina as top priority.
What is it: 
The Wet Lotus Vulva Oil is infused & formulated with 10 plants that are geared towards healing, soothing, boosting libido, combating dryness, odor, bacteria, irritation & infections, while balancing your flower.

NO Fragrance, Parabens, or Artificial Color!
Use:
-Apply 1-3 drops to clean fingertips & spread onto cleansed vulva area
-Apply daily &/or nightly
Note:
*You may see very small amounts of raw plant material settled to the bottom. Do not worry! It's not harmful & helps with adding nutrients! No need to shake!*
Care: 
-Keep in cool place away from direct sunlight
-Keep closed when not in use
-Avoid getting outside factors into product (Water, dirt, etc)
Warning: 
-If pregnant or trying to become pregnant, please consult with your OBGYN before use. 

-If irritation occurs, stop use. 


-Oil & condoms do NOT mix! If you are using a condom during sex, avoid using any oil as a lube as it can cause condoms to tear. 
Shelf Life:  
3-4 months from receiving 
Ingredients:
Watermelon Seed Oil, Pomegranate Seed Oil, Rosehip Oil, Peppermint Extract, Oregano Extract, Lavender Extract, Calendula Extract, Neem Extract, Jasmine Extract, Marshmallow Extract, Essential Oils of Blood Orange, Ylang-Ylang, Tea Tree & Peppermint, Caprylyl Glycol, Phenoxyenthanol, Hexylene Glycol
Disclaimer: These statements have not been evaluated by the Food and Drug Administration. This product is not intended to diagnose, treat, cure, or prevent any disease. Results may vary. Please test products on small patch of skin before using fully. 
🙌🏽🙌🏽🙌🏽🙌🏽
This oil is great! Using this oil after the lotus wash is the best combo for your yoni to keep you feel fresh & clean all day. You will definitely feel the difference.